Last Updated: October 4, 2015
Next Update: November 1, 2015 (Maybe)
SHAMBLING BACK TO LIFE!


Brains... BRAINS... err.. Games... GAMES...
Ahem... So it turns out this site was only mostly dead.
I apologize for the irregularity of updates around here lately. I won't get into all the details, but things have not gone smoothly for me for the last year and half or so. I think maybe it's all starting to settle down now, but I can't say for sure. Fingers crossed. Cautiously optimistic. And so forth.
Work on the next chapter of The Forever Friday has slowed to a mere trickle, but it hasn't stopped entirely. Last month I was finally able to put the finishing touches on a particular puzzle that's been driving me up the wall for ages. There was a bug deep, deep in the code that took me forever to find. It was very hard to trigger, but if it did, it crashed the game. I spent FOREVER trying to fix the damn thing. I'm quite pleased that I can move on to the next part of the game. At this rate, it won't be until next summer (at the earliest) before the game is finally ready to upload to the web, unfortunately. But the important thing is that the project isn't dead... or even mostly dead. ;-)
As the long-time readers know, Halloween is my second-favorite time of year. Ghosts, goblins, trick or treaters. The hot days of summer are finally behind us. There's a cool nip in the air at night but the frigid days of winter are still in the future. A light rain falls most evenings in my desert town. I never sleep better than I do at this time of year. I'm very relaxed and it's helping my mood immensely.
I hope things are going well for you guys too. And a heartfelt thanks to each and every one of you who e-mailed me during this long drought of updates to check in on me. You guys are the best. :-D
I don't have a true Halloween game for you, but I do have a game that I haven't plugged here before that does feature a few spooky, suitably appropriate segments. I hope you enjoy it.
Happy Halloween and I'll be back next month with a little bit of fresh news about the next Barn Runner game.
See you then (hopefully).

FEATURED THIS MONTH


Bake Sale II Game
2034 A.C. (After Canada) Chapter 2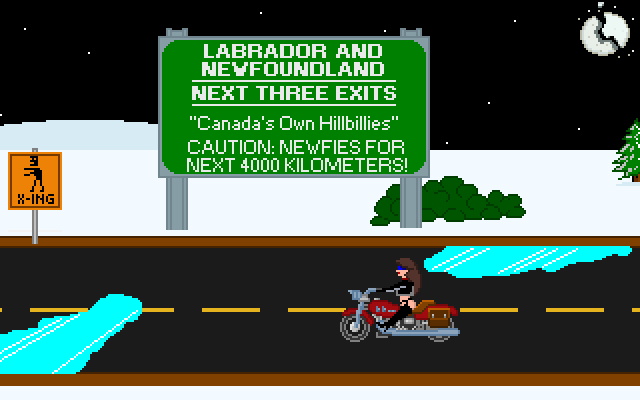 Fun Fact: The cracked moon is a reference to "Thundarr the Barbarian" (Ahhh, nostalgia!)


This game was part of the AGS Bake Sale II bundle in 2014, and is now available to download for free. It is the sequel to a MAGS game I made way back in early 2013. You can pick up the first 2034 AC game here.
2034 A.C. (After Canada) follows the post-apocalyptic adventures of Royal Canadian Mountie Paige Rowsdower (and yes, her name is a reference to my all-time favorite episode of Mystery Science Theater 3000 -- there's even a hidden Easter Egg in this game that ties directly into the movie... can you find it?). She travels around the Great White North, fighting crime and trying to maintain order in a world that's going straight to heck.
If you haven't already played it, give it a try. It's not Barn Runner, but it's a nice treat all the same.